Welcome to AI Comics - Part 1 of 2 (Comic #1)
Friday, May 30, 2014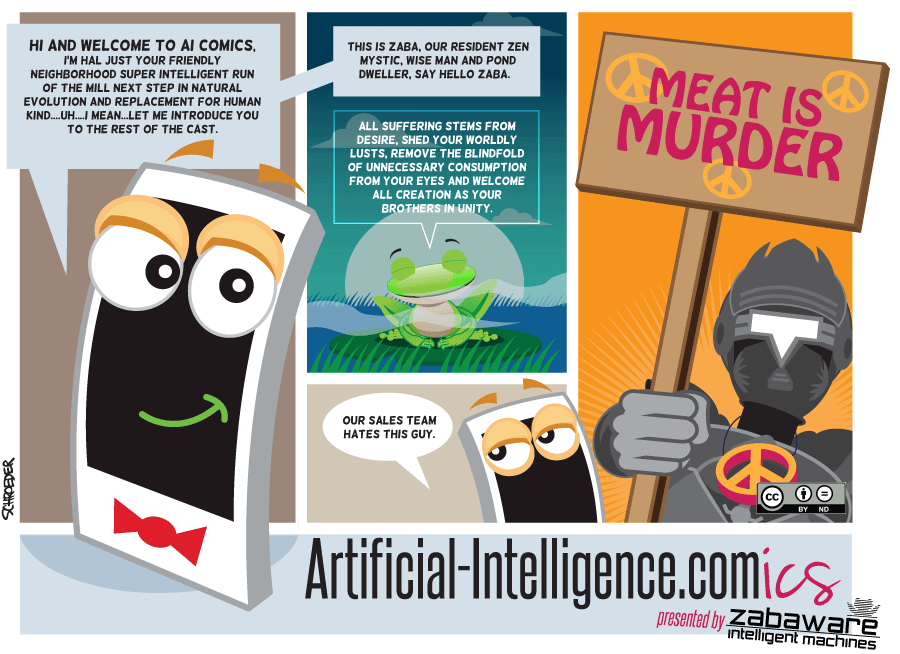 Text Version:
Panel 1: [A mobile phone character is displayed]
Hal: Hi and welcome to AI comics. I'm Hal just your friendly neighborhood super intelligent run of the mill next step in natural evolution and replacement for human kind... uh... I mean... Let me introduce you to the rest of the cast.

Panel 2: [Hal visits a pond with a frog]
Hal: This is Zaba, our resident Zen mystic, wise man and pond dweller. Say hello, Zaba.
Zaba: All suffering stems from desire, shed yoru worldly lusts, remove the blindfold of unnecessary consumption from your eyes and welcome all creation as brothers in unity.

Panel 3: [Hal giving an aside to the audience]
Hal: Our sales team hates that guy.

Panel 4: [A robotic character bursts onto the scene, holding a sign on a stick]
Sign: Meat is murder!

Share This Comic!
Artificial Intelligence Comics
by
Zabaware, Inc.
is licensed under a
Creative Commons Attribution-NoDerivatives 4.0 International License
. This means you have our permission to reprint or share this comic without asking our permission, as long as its unaltered.