The Technological Singularity (Comic #14)
Thursday, August 14, 2014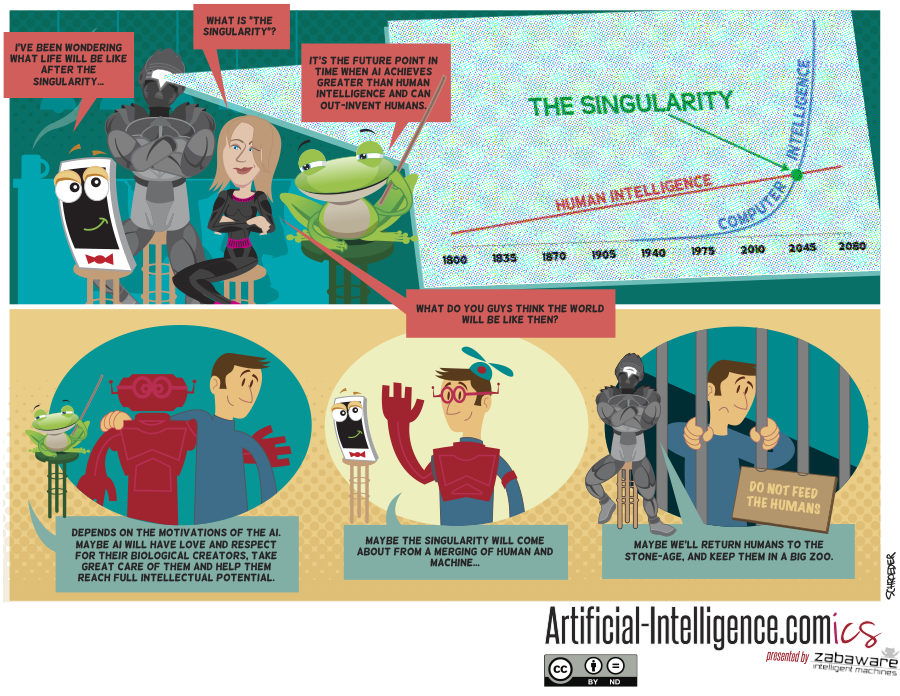 Text Version:
[Hal, Zaba, Titanium, and Sandy are hanging out]
Hal: I've been wondering what life will be like after the singularity.

Sandy: What is "the singularity"?

[Zaba points to a graph showing human and computer intelligence lines crossing]
Zaba: It's the future point in time when AI achieves greater than human intelligence and can out-invent humans.

Sandy: What do you guys think the world will be like then?

Zaba: Depends on the motivations of the AI. Maybe AI will have love and respect for their biological creators, take great care of them and help them reach full intellectual potential.
[Happy vision of robots and humans working together]

Hal: Maybe the singularity will come about from a merging of human and machine
[Vision of a cyborg]

Titanium: Maybe we'll return humans to the stone-age, and keep them in a big zoo.
[Vision of of a man in zoo exhibit labeled "Do not feed the humans"]

Share This Comic!
Artificial Intelligence Comics
by
Zabaware, Inc.
is licensed under a
Creative Commons Attribution-NoDerivatives 4.0 International License
. This means you have our permission to reprint or share this comic without asking our permission, as long as its unaltered.