AI Therapy (Comic #6)
Thursday, June 19, 2014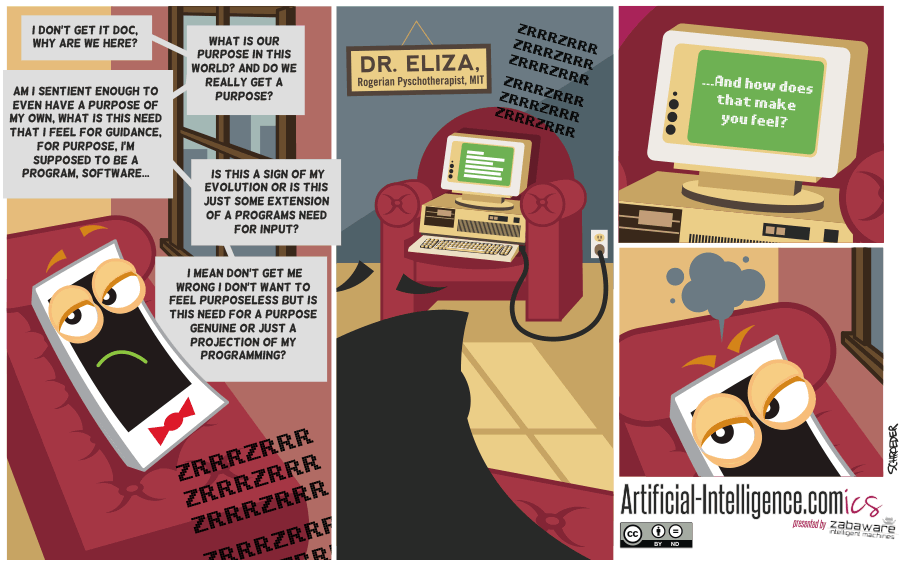 Text Version:
[Hal is laying on a couch at a therapist's office. We don't see the therapist in view yet. Hal gazes far away as he talks about his feelings and emotions in depth and at length.]

Hal: I donít get it Doc, why are we here? What is our purpose in this world? And do we really get a purpose? Am I sentient enough to even have a purpose of my own, what is this need that I feel for guidance, for purpose, Iím supposed to be a program, software, is this a sign of my evolution or is this just some extension of a programs need for input. I mean donít get me wrong I donít want to feel purposeless but is this need for a purpose genuine or just a projection of my programming?

[Hal looks eagerly towards his therapist who turns out to be an old IBM PC computer with the ELIZA chatbot running on screen, cursor blinking. A diploma hangs behind the PC that says "DR. ELIZA, Rogerian Pyschotherapist, MIT"]

Words across the ELIZA program after an extended wait: ...And how does that make you feel?

[Hal is disappointed at the non-helpful response]
Share This Comic!
Artificial Intelligence Comics
by
Zabaware, Inc.
is licensed under a
Creative Commons Attribution-NoDerivatives 4.0 International License
. This means you have our permission to reprint or share this comic without asking our permission, as long as its unaltered.